GETTING THE LOVE YOU WANT
COUPLES WEEKEND INTENSIVE
Tens of thousands of couples worldwide have discovered how to Love and Be Loved, through attending the Getting the Love You Want workshop.This workshop is based on the best seller Getting The Love You Want by Harville Hendrix PhD
This workshop is lively and experiential and will help you turn the conflict in your relationship into opportunities for healing and growth. You will each explore your individual emotional history so as to understand its impact on your relationship and you will gain compassion and understanding for each other's story. You will leave the weekend with fresh insights, new skills, energy and hope to restore the commitment and romance in your relationship.
This transformative weekend intensive is your stepping stone and "how to" guide to get you the relationship of your dreams. Attending this weekend will equip you with the right tools, the right knowledge and give you the code book on how to put it altogether.
The workshop draws upon the teachings of Imago Relationship Therapy and is equivalent to 6 months couple work!
Please join us on this powerful, life changing journey.
You will learn :
How to talk and listen to each other in a way that creates safety and connection

How the unconscious forces that attracted you to your partner may also be the source of your relationship conflicts

How to end power struggles and resolve cycles of anger, blaming and shaming

That relationship can be a path to emotional healing and spiritual evolution.

Ways to bring back passion, fun and intimacy

To become more compassionate understanding of each other
Make your dream relationship a reality and discover a new way to lasting love.
Learn a new way to talk and listen that creates safety and connection
The workshop is for you if:
You want to create a solid foundation for a new relationship and avoid past frustrations.

You want to turn a good relationship into a great relationship!

You are in a difficult relationship and want to resolve longstanding conflicts.

You are near a break-up and want to decide if your relationship can be saved.
All couples welcomed!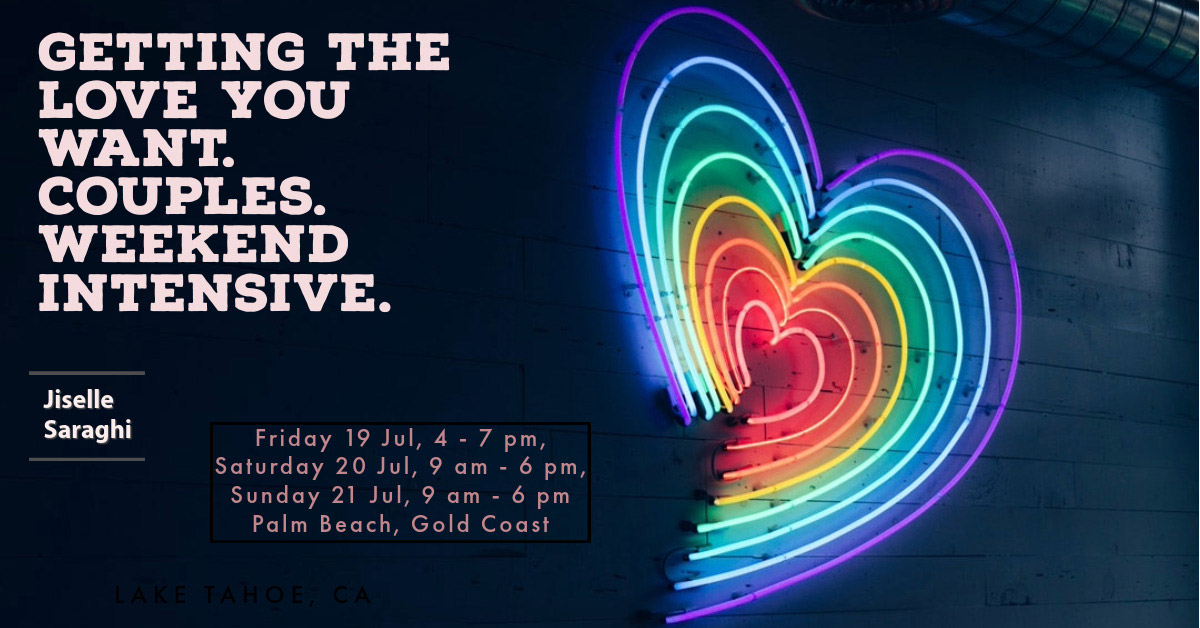 The workshop size is kept small (maximum 10 couples)
Format of Workshop
A mixture of talks, writing exercises, demonstrations, visualisations and practice sessions

There are opportunities for group sharing but the workshop emphasises partners privately sharing and working with each other

It is not group therapy.

The workshop size is kept small (maximum 10 couples) to create a safe and relaxed environment. The workshop is welcoming and safe for all kinds of couples.

A comprehensive manual is included in the fee

Delicious morning and afternoon tea will be provided (BYO own lunch or visit local cafes)
GETTING THE LOVE YOU WANT COUPLES WEEKEND INTENSIVE
Friday 19 January, 4 - 7 pm,
Saturday 20 January, 9 am - 6 pm,
Sunday 21 January 9 am - 6 pm

Kirra Cultural Centre, Gold Coast
FEE: $990 early bird $940 (paid in full by 1/1/2024)
Super early bird $890 (paid in full by 1/12)
Need more information?
Ready to register? 0409 517 804 or
Download Brochure
Cancellation Policy
Getting the Love You Want – Couples Workshop. If you withdraw 14 days or more prior to the start date of the workshop, your fee will be refunded in full (less non refundable deposit) For withdrawals made 7 days or less prior to the start of the workshop, your fee is non-refundable but can be transferred to the next couples workshop presented by Innercalm Counselling.
The $200 deposit to hold your place is non refundable

*Covid* If you are unable to attend because you have Covid you will be able to attend a future workshop.
Jiselle has been kind, understanding and empathetic to both my husband and I. This created a safe environment for healing and growth for us. I really appreciate this in what has been a really difficult time for us.

Awesome, friendly and open to comments. Good explanations and great content. Non- judgemental and created a safe environment. Thank you! Inspirational - deeply affected by your work over the weekend with all the couples..

Jiselle comes across as a very caring and warm with knowledge on how to best repair you and your relationship. Very genuine human.

This workshop has taught us so much in only 2 days. The structure and exercises were so easy to follow and understand. Thank you for all the hard work time and effort that went into the weekend. We appreciate it so much.

Jiselle provides a great deal of understanding. Providing invaluable guidance to "wounded couples". Done so with a great deal of patience and passion.

The Imago workshop was a life changing experience. I have never felt so close and connected to my partner.
Every relationship needs this!
Jiselle was incredible. Her beautiful calming nature put me at ease. We can't recommend her highly enough.

I'm aware that many people view personal development workshops as a waste of time. They choose not to invest in themselves. If you are one of those people reading my message, I strongly suggest you take this risk. Your relationship is a risk to begin with, so why not take this opportunity to reflect, grow and reconnect. I am so grateful for taking part in this experience. Thank you Jiselle!

Really enjoyed the workshop. It opens up journey of personal discovery/development/ growth which I can use to understand behaviours in my relationship. It has given me the skills to communicate with my partner and our connection is now at a level I didn't realise was possible.

Jiselle was very helpful, guided me in a way I felt comfortable with, and I felt she allowed me to take as much as I could from this workshop. Food was amazing!

The workshop offers useful ideas for creating an intentional loving relationship: the practices used regularly by participants across the 2 days helps make the future use of them possible. I feel I have a good sense of how I can mirror and listen to my partner for real understanding

Jiselle presented a great informative workshop. I really enjoyed the 2 day workshop. Everything we discussed made sense. It clarified a lot of missing links.

Although being apprehensive and anxious before and at the start of the workshop I'm glad I attended the whole weekend. I learnt more about myself and gained valuable insight into my partner's world.

This workshop will be limited so call or email Jiselle today to secure your place. 0409 517 804 or

Download Brochure